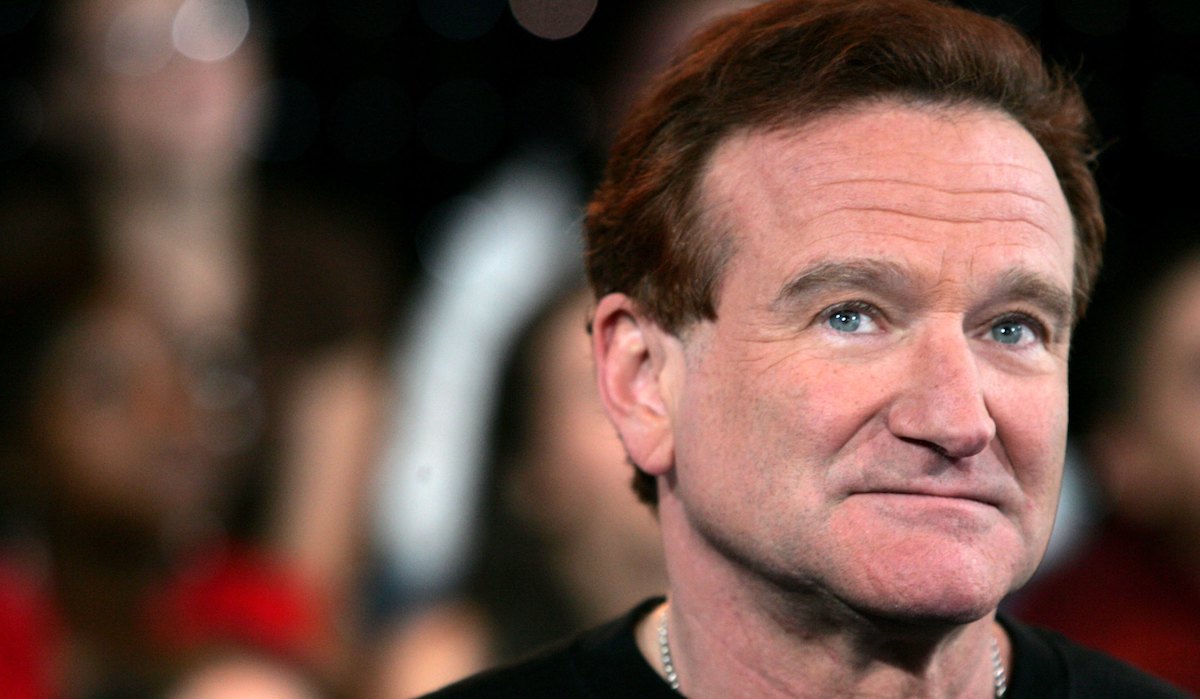 Robin Williams' Final Days Reveal Another, Powerful Facet To His Suffering
It's been over six years since actor Robin Williams took his own life. A lot may have happened since then but his passing still hangs over us like a ghastly cloud. The comedic actor left behind a powerful legacy, one that's unlikely to ever be matched in his industry. 
What makes his death all the more tragic is the struggle he faced in his final months. His autopsy report revealed that Robin had been suffering from depression and anxiety. A further examination of his brain tissue pointed to a disease called "diffuse Lewy body dementia." The symptoms of this particular type of dementia include memory loss, paranoia, and delusional thoughts. 
In his last days, Robin held on with strength, kindness, and love; even though his body was slowly getting overrun by these symptoms. A new documentary, Robin's Wish, details the challenges faced by the actor in his last days. The latest revelations don't only allow us to celebrate the great actor once again but tell us how we can live our own lives with the same qualities. 
Robin never knew about his condition so he suffered in confusion 

One of the biggest factors on why this documentary was made is because the director, Tylor Norwood, learned that Robin was only diagnosed with Lewy Body Dementia posthumously. This means Robin went through those awful bouts of paranoia and memory loss without knowing what was happening to him. His body and mind were slowly declining but he wasn't able to find solid medical explanations.
Robin's wife Susan Schneider Williams shared how both she and Robin knew that something was not right with him and that they told each other that they'd get to the bottom of the symptoms. But they were too late. Susan said:
Robin and I knew there was so much more going on. Robin was right when he said to me, 'I just want to reboot my brain.' In that moment I promised him that we would get to the bottom of this and I just didn't know that would be after he passed. 
He experienced overwhelming paranoia, delusions and anxiety 

Three months before his death in August 2014, Robin Williams was officially diagnosed with Parkinson's disease. So he and his wife attributed a lot of symptoms, such as hallucinations, insomnia, anxiety, to that and focused their efforts on getting his medications adjusted for Parkinson's.
But of course, not knowing what his disease was made all the more difficult to identify and handle his behavioural symptoms. Susan said that he would frequently forget or fumble lines while shooting his last couple of projects. He also became incredibly insecure and distressed as a result; he would often call his co-actors or directors at odd hours of the night, trying to see assurances that his performances weren't subpar or horrible. 
Watch this Goalcast video on Robin Williams' incredible legacy:
Those same insecurities made him somewhat of a recluse as well. For a guy whose public perception hinged on being energetic, wholesome, and outgoing, Robin became a shell of his former self at times. He preferred to stay cooped up at home rather than socialize or do his stand-up shows. He would stay up the whole night suffering from delusions and panic attacks. 
In one such case, Robin woke up feeling like his friend Mort Sahl was in danger. He and his wife battled with this fear for hours as Robin continuously called and texted his friend to make sure he was alright. He even wanted to drive over to his friend's place to see for himself. Finally, his wife convinced him that his friend was indeed okay and they finally went to bed at 3:30 a.m.
Susan said:
For someone as brilliant as Robin, who put his heart and soul into his career, to just start losing his abilities … it was devastating for him to watch what it means to be human slipping through his fingers. 
Yet his desire to bring happiness to others never faltered 

Robin may have been subjected to terrible suffering in his final months but he was still the same man he'd been throughout his career: hopeful, sweet, and affectionate. Robin met Susan at the Apple store in 2007, and this place of the meeting held a very special place in his heart. Susan shared an anecdote about what Robin did for her a few weeks before he passed.
I had to run an errand at that very same Apple store. Out of the blue, he came walking in with flowers and surprised me. I looked at him like, 'Oh, my God, what are you doing?' And he said, 'This is where it all began. 
He wasn't just kind to Susan; he'd asked his neighbour John for a hug the day before he died. In the last couple of weeks before his death, he'd also began reading a lot. Tylor Norwood said that following her husband's death, Susan went over to his bed to feel close to him again. She found his AA book.
It was such an important thing to him because he had depression and drug addiction, and he read this book every night and he did the work. [Susan] opened it, and she sees this page, and he wrote, "I just want to help people be less afraid."
Robin had said the same thing when Susan and he were discussing what they wanted their legacy to be. " Without missing a beat, he said, 'I want to help people be less afraid,'" said Susan. She reminded him that he was already going that through this extensive body of work.
Here are 5 Daily Habits To Steal From Robin Williams and Honour His Legacy
Always hold on to your kindness

Robin Williams' final years tell us that our kindness manages to present itself even when our bodies and minds are going through something so deplorable. If you hold on to your kindness, it becomes a part of you. It survives in you and is present through all the ups and downs you go through in your life. Robin spent his life cheering people up with his comedy, changing people's words with his wise words, and bringing so much love and affection to his close family and friends. 
A disease, one that's as harrowing as Lewy Body Dementia, wasn't going to affect his ability to maintain compassion, kindness and empathy. He had good days, bad days, and just horrific days, but he knew that the only way to live through life is to build connections with others and find a way to make this huge world we live a little less stressful. As Robin Williams famously said:
You're only given one little spark of madness. You mustn't lose it.
More inspiring celebrities: