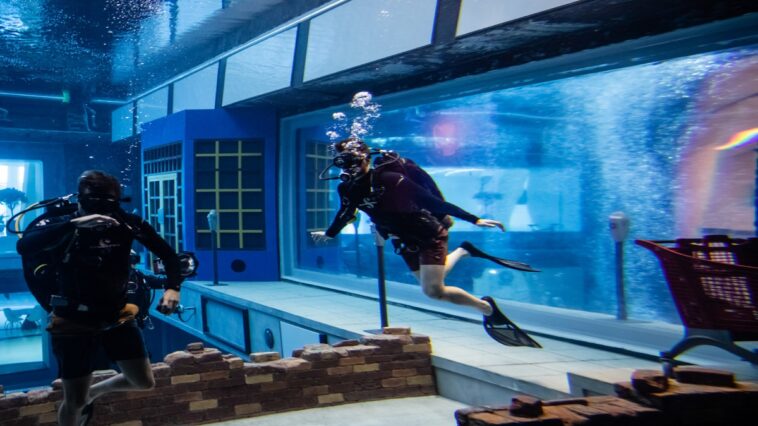 World's Huge Swimming Pool having apartments and restaurants inside the pool
The world's huge swimming pool has been built in Dubai. The depth of this terrible pool is 60.02 m. It has also been featured in the Guinness World Records.  This swimming pool built in the Nad Al Sheba area near Dubai has been named 'Deep Dive Dubai'. The pool has restaurant, apartments, shopping malls etc inside the pool.
Highlights of the pool:
It can fill 14 Million liters of water, which is equivalent to 6 swimming pools of Olympic size.
The water will be filtered every 6 hours. For this, NASA's developed filter technology and ultraviolet radiation will be used.
 The temperature of this pool is 30°C WATER TEMPERATURE.
The swimming pool has a dive shop and a gift shop. An apartment and garage are also stationed inside the pool.
It offers a variety of courses for scuba divers. In addition, meetings, events and conferences can also be organized here.
There are 56 underwater cameras
Offers 3 categories:
Deep Dive Dubai's guided experiences and courses are offered across three categories.
Discover – Take your first breath underwater at Deep Dive Dubai. Your try dive starts with a short briefing on the basics of scuba diving and an introduction to the equipment. Your instructor will teach you essential diving skills in shallow water and then you'll be ready to explore an underwater city in the world's deepest pool.
Dive–This category welcomes everyone from naïve to qualified professionals to dive within their certification limits.
Develop –This offers training to develop skills as well as gain scuba diving and free diving certifications offered by Deep Dive Dubai ranging from entry-level through to technical and instructor-level.
The Crown Prince of Dubai invites the world:
Dubai's Crown Prince Sheikh Hamdan bin Mohammed bin Rashi Al Makhdoom shared a video on social media on 7th July 2021 . He tweet that a world awaits you in Deep Dive Dubai. This swimming pool is currently open to invited guests only. Bookings for the general public will start at the end of July.
How much to pay?
Talking about prices, Deep Dive Dubai has settled on a starting price of 800 Dirhams approx. INR 16.5k for their minimum services and enquiry for the same can be done on their official website.
Stay updated Adventure Archives – Yourfeed