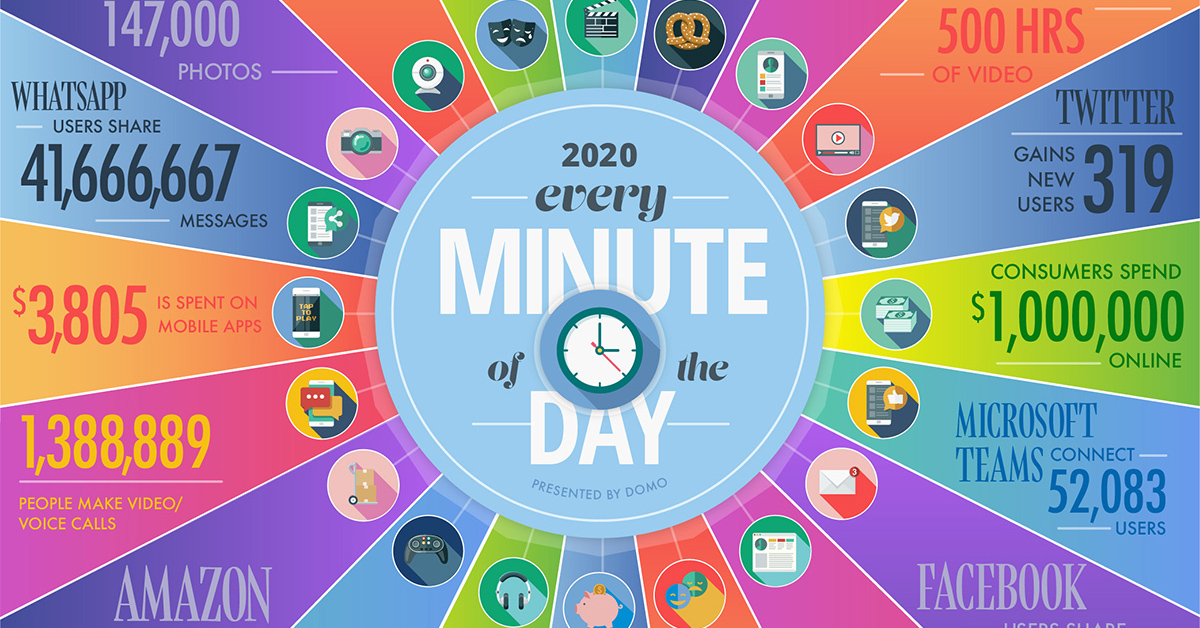 A minute on the internet in 2020
Here is all that happens every minute on the Internet!
Netflix : 28,000 subscribers watching Netflix in a minute. Netflix is a streaming service that offers a wide variety of award-winning TV shows, movies, anime, documentaries, and more
Instagram : 695,000 Stories shared. Instagram allows users to edit and upload photos and short videos through a mobile app
Linkedin : 9,132 Connection Made. LinkedIn is the world's largest professional network on the internet. You can use LinkedIn to find the right job or internship
Whatsapp : 6.9 Mn Messages sent. WhatsApp is a messaging app that uses the internet to send messages, images, audio or video.
Tiktok : 5,000 downloads. Tik Tok is a short-form, video-sharing app that allows users to create and share 15-second videos, on any topic
Ecommerce shopping : $1.6Mn spend online
Tinder : 2Mn swipes. With 55 billion matches to date, Tinder® is the world's most popular dating app, making it the place to meet new people
Gmail : 197.6m Email sent. Gmail is a free email service provided by Google
YouTube : 500 hour of content uploaded. YouTube is a free video sharing website that makes it easy to watch online videos. You can even create and upload your own videos to share with others
Twitch : 2mn Views . Twitch is the world's leading live streaming platform for gamers and the things we love.