From Comedy to Controversy: The Meteoric Rise of Elvish Yadav – India's Influential YouTuber and Vlogger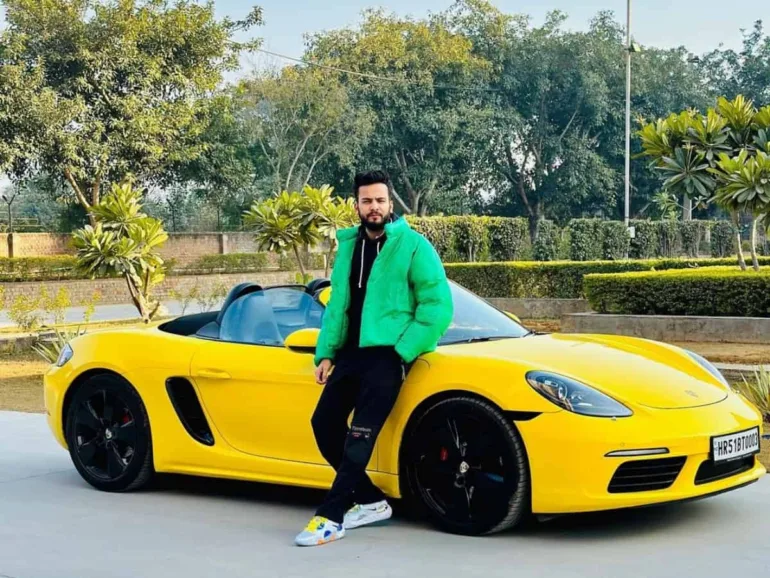 From Comedy to Controversy: The Meteoric Rise of Elvish Yadav – India's Influential YouTuber and Vlogger
Elvish Yadav, an Indian YouTuber and social media influencer, has soared to fame and amassed a massive following, thanks to his humorous and comedic videos on YouTube.
The creator of the popular vlog channel, "Elvish Yadav Vlogs," he shares glimpses of his private life with his dedicated fans.
One notable moment in Elvish's journey was his involvement in the TikTok VS YouTube controversy, which he initiated and gained immense fame even amidst the heated online battle. The controversy escalated when another renowned YouTuber, CarryMinati, joined the fray. With two YouTube accounts, each boasting millions of subscribers and adorned with silver and gold play buttons, CarryMinati became a prominent figure in the internet realm after roasting TikTokers.
Born on September 14, 1997, in Gurgaon, Haryana, India, Elvish completed his basic education at Amity International School before enrolling in Hansraj College, Delhi, pursuing a Bachelor of Commerce degree. His outgoing nature has enabled him to forge numerous friendships throughout his life.
Elvish Yadav's family plays a significant role in his life, and he often shares heartfelt moments with his mother, Susma Yadav, on his official Instagram account. As the youngest of three siblings, Elvish hails from a Jaat family and follows the Hindu faith.
Driven by his passion for video production and acting, Elvish drew inspiration from the renowned YouTuber Ashish Chanchalani, whose immense success fueled his desire to become an online sensation. He ventured into YouTube and other video-sharing platforms, even featuring in music videos like "Hauli Hauli."
Elvish launched his YouTube channel on April 29, 2016, initially naming it "The Social Factory" before settling on "Elvish Yadav." His channel boasts 9.1 million followers and a staggering 6.80 billion views as of February 2023. Known for flash fiction and conceptual films, he collaborated with fellow popular YouTuber Harsh Beniwal on several vlogs. One of his most famous videos, "SCHOOL LIFE – THEN VS NOW – | Elvish Yadav |," garnered 29 million views.
Expanding his YouTube presence, Elvish launched a new channel on November 23, 2019, accumulating 3.47 million subscribers and 95 million views by February 2023. On this channel, he created daily vlogs and roasted movies with the participation of friends and family. His video titled "ELVISH YADAV ROASTING TIKTOKERS" emerged as a massive hit, attracting a staggering ten million views by February 2023.
The video sparked further controversy when Elvish mocked other TikTok stars after roasting the initial batch. It was around this time that CarryMinati uploaded a video titled "TikTok vs. YouTuber" on TikTok, which garnered millions of views but was ultimately taken down by YouTube. This action initiated a chain reaction of responses, as other YouTubers and TikTokers engaged in heated exchanges on the platform.
As Elvish Yadav's influence continues to grow, his journey remains a testament to the power of humor, controversy, and the indelible impact of social media on modern entertainment and culture. Hi is in bigg boss OTT season 2 right now.
| | |
| --- | --- |
| Popular For | Comedy Vines videos on Desi Hariyanvi Accent |
| Birth Date | 12 November 1997 |
| Age | 25 Years (As in 2023) |
| Birth Place | Gurugram, Hariyana, India |
| Residence | Gurugram, Hariyana, India |
| Nationality | Indian |
| Religion | Hinduism |
| Category | wiki |
| Qualification | B. Com (Bachelor of Commerce) |
| Education | Hansraj College Delhi, India |
| Managed By | BrandZUp Media |
| Zodiac Sing | Scorpio |
Physical Appearance
Height
Feet Inches: 5′ 11″
Meters: 1.82 m
Centimetres: 182 cm
Weight
In Kilograms: 72-76 kg
In Pounds: 158-167 lbs
Body Stats
Chest-34 inches
Waist-32 inches
Biceps-12 inches
Eye Color
Dark Brown
Hair Color
Black
Hair Size
Short
Elvish Yadav Net Worth
Net Worth (as of 2023)
16 million
Salary Per Year (as of 2023)
1 to 1.25 Crores
Endorsements
None
Manager/Agent
WhizCo
Car Collection
Hyundai Verna- 15.36 Lakhs
Toyota Fortuner 4X2- 52.68 Lakhs
Porsche 718 Boxster- 1.3 Crore
House Location
In Gurgaon
Elvish Yadav Social Media Accounts