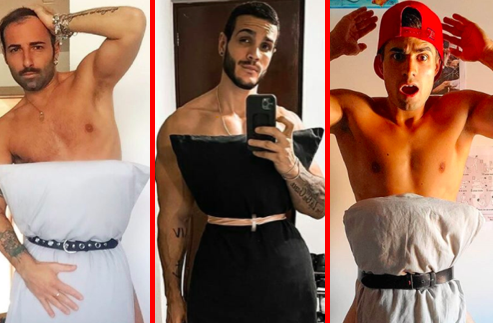 #QuarantinePillowChallenge Brings The Best of Pillows!
From the poopchallenge and UntilTomorrow to Dalgona coffee, people are really coming up with weirdly creative ideas to beat the boredom in the times of corona virus lockdown.
The new entrant in the list is now the #QuarantinePillowChallenge that's taking the social media platforms by storm.
But what exactly is this challenge? Well, read to know more!
More Than A Pillow
The new challenge is something where people get nominated to show off their style with a pillow! They are wearing pillow as a dress and posing it for the social media.
People wear the pillow as mini dress and secure it with a belt. They also complete the whole look by adding accessories, wearing stylish footwear just like a party outfit!
If you still can't understand, take a look at some of our favourites:
The style of dressing is really going the trendy way!
The trend that was first limited to women has now become famous among kids and men too. Yes, families, pets and even little kids are getting into this trendy challenge turning silliness into happy moments in the times of corona. Take a look!
Even the little pets are adoring pillows with great style.
This challenge might seem bizarre and crazy but you can't help up admit that netizens are pulling it off with great elegance. They are not just experimenting with the poses but also the accessories to bring the best costume.
What do you think about the #QuarantinePillowChallenge? Let us know in the comment section.
We know the times are tough but all we can do now is stay home and be safe. And if you get bored, well, start browsing Yourfeed for content that resonates with the millennials!